We're excited to announce great new updates to Localization! These updates include the ability to save localization variables for future use as well as being able to localize a scheduled post from the calendar.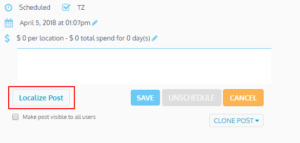 When you click to localize a post, there will be a new check box option that reads, "Save localization configuration for future use?" If you check that box, it will save any new updates or additions to your current customer localization configurations. This way you won't have to input the same variables each time you localize a post.

Please contact your Lava Surf Account Manager for questions or training. You can also view the tutorial video below to learn how to localize a post.
-The Lava Surf Team