We all know that the Wendy's Twitter account has a reputation for amusing its audience with sassy comments and clapbacks. But a lot of companies want to engage and amuse their audience without taking such a bold approach. Brands who use Twitter know that the platform is a great tool for communicating directly with customers and keeping their brand name top of mind.
Here are 3 brands that are currently rocking the Twitter game.
Oreo: The Trend Setter
Oreo is milk's favorite cookie and without question one of our favorite Twitter accounts. Why? Oreo knows that you can't go it alone. A quick glance at Oreo's Twitter page will show you that they make an effort to collaborate with other brands and celebrities. This helps stimulate conversation about their brand with audiences outside of their regular circle of followers.
Another reason we love Oreo? They know that video content is key. Did you know that tweets with videos get a 28% boost over tweets that don't? Oreo knows this and uses it to their advantage. The popular cookie brand is constantly tweeting videos that promote their product and capitalize on popular trends. They even joined in on the Game of Thrones craze by tweeting a short Game of Thrones themed cookie ad. That leads us to the final reason we love the Oreo Twitter account. They don't hesitate to jump in on trending topics and conversations. Who could forget the famous "You Can Still Dunk In the Dark" tweet during the massive power outage during the 2013 Super Bowl? Oreo utilizes quick thinking and a playful voice to connect with new audiences.
Netflix US: The Movie Buff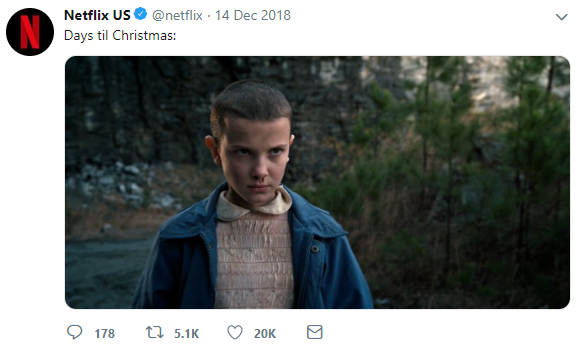 Because Netflix is in the business of always creating fresh content, it has developed a unique way of interacting with its audience. The Netflix US Twitter account discusses shows people are watching every day and comes up with clever inside jokes involving the shows, movies, and characters. Netflix talks to its followers about popular shows just like you would talk to a friend. That's what makes this account so great.
Netflix also comes up with creative and engaging questions such as "Which TV character would you save if you had to pick?" or "If you could change the ending to any movie, which one would you choose?"With all the exciting conversation that circles around plot twists and new releases, the Netflix Twitter account is always buzzing with news. This benefits Netflix because a successful and active Twitter account should be tweeting at least 2-3 times per day. These interactions also encourage users to watch new Netflix releases so that they can join in on the conversation. 
Innocent Drinks: The Class Clown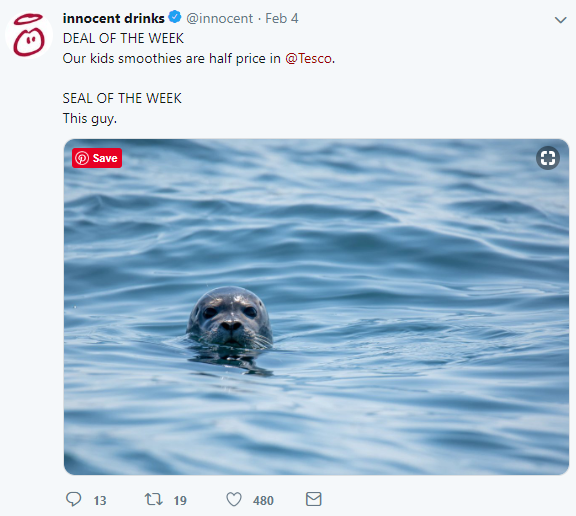 If you follow Innocent Drinks on Twitter then you are in for a treat. Innocent drinks takes a rather unexpected approach to promote their smoothie account. Rather than overtly advertising their products, the company leans on a BIG personality and a youthful sense of humor.
Their shamelessly humorous tweets (and puns) have a habit of grabbing your attention. All the likes and retweets are sure to keep them top of mind as your favorite smoothie company. Their sense of humor helps them promote their product without sounding too "salesy." 
It's important to remember that this is the voice they have chosen for their brand. The Innocent Drinks playful voice is prominent on their other social media pages and even on their website.
So what did we love about these Twitter accounts? They engage with their audience, utilize video, and use a strong brand voice. These brands aren't afraid to collaborate with other brands or break the mold with their unique posts. We think everyone can learn something from following these 3 amazing Twitter accounts.